To contact the Marie Dressler Foundation by mail or email, see our About Us page.
Vintage Film Festival
The Foundation produces the Vintage Film Festival every year on a weekend in October. Full details here.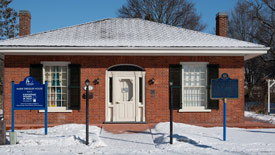 The history of the Marie Dressler House is here. It is now the home of the Interactive Canadian Women in Film Museum.
Dressler House is located at:
212 King street West (Hwy 2),
Cobourg, Ontario, Canada.

The Marie Dressler Museum has been expanded and is now called "Canadian Women in Film Museum".

Hours
Due to COVID-19 health and safety protocols, the museum will be open by appointment only.
Visit the new museum's website here for details of how to book your visit.

The Marie Dressler Story

Born in Cobourg, Canada - one of Hollywood's greatest stars
The Dressler Story: to Dream, to Dare, to Persist, to Win
Cobourg is the birthplace of Marie Dressler - one of the greatest comediennes of her generation and one of Hollywood's best loved stars.
This is the official site of the Marie Dressler Foundation whose mission is to make sure that Marie Dressler is remembered. The Foundation, a registered charity, was created to raise money to restore her house when it was burnt down in 1989 (More here).
Vintage FIlm Festival
Our largest activity has been the Vintage Film Festival which is held on a weekend in October every year.
But in 2018 we had additional major events to celebrate Marie's 150th birthday.
Bursaries
Another major activity of the Foundation is to award scholarships/bursaries to students planning to pursue an education in the arts field. There is a list of previous scholarship winners here. The 2019 winners were presented with their awards at Dressler House on July 6 - see the story with photos here. For more information on how to apply, go here.
Also available on this site
For more than 28 years Marie Dressler Foundation has promoted the love of film through Vintage Film Festival, and more recently RearView DocFest, funding student bursaries, and by creating a public museum in honour of Marie Dressler. This continues to be possible only with the generous support of our loyal patrons, donors, sponsors and volunteers.
The continued health and safety of our patrons and volunteers at our events is our first priority. With this in mind, given the inherent risk of the COVID-19 pandemic to our patrons and volunteers, we have cancelled our charitable fundraising events for 2020. Unfortunately, this leaves the Foundation without any earned income in 2020 to meet ongoing core expenses, such as insurance and utilities.
Your financial assistance now will help us to be there for you in 2021. Now, more than ever, we need your continuing financial support! Please donate what you can.
Note that donations are managed through Canada Helps.
A tax receipt will be issued for donations of $20 or more to donors who provide their mailing address (registered charity # 13018 8535 RR0001).