To contact the Marie Dressler Foundation by mail or email, see our About Us page.
Vintage Film Festival
The Foundation produces the Vintage Film Festival every year on a weekend in October. Full details here.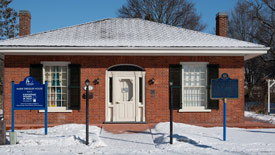 The history of the Marie Dressler House is here. It is now the home of the Interactive Canadian Women in Film Museum.
Dressler House is located at:
212 King street West (Hwy 2),
Cobourg, Ontario, Canada.

The Marie Dressler Museum has been expanded and is now called "Canadian Women in Film Museum".

Hours
Opening hours for 2023
By appointment only - see About Us page
Visit the new museum's website here for details of how to book your visit at other times
Happy 153rd Birthday Marie!